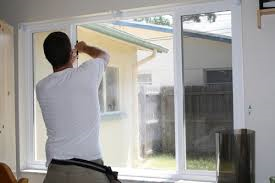 Things to know when purchasing new windows for your home:
Always tell your contractor if you plan to have window treatments installed.  A good contractor/window installer will know what should be done in order for the best-looking, most functional window covering to be installed correctly and professionally after the fact.
With retrofit windows you most likely will have less depth to inside mount any type of window treatment…especially shutters.  Outside mounting is always an option, but it's good to know this beforehand.
If you are planning to install blinds/shades, and have enough depth for an inside mount, have your window contractor install trim around windows.
If you plan to install shutters, it is best to have your contractor NOT install any trim.  Most shutter manufacturers have their own trim/framing that comes with the shutter.  Also with shutters, any sills that you have put on should be extended far enough that it will go past any shutter frames.
If you think you would like to install shutters, it is best to purchase windows without grids, or with ones that are removable.  Shutters often look too busy over windows that have grids.
Kitchen or bathroom windows for which stone or tile will be installed within or around the window may affect which window coverings can be installed.  Only a few products are available with cutouts. Likewise, if you intend to install shutters, it's best to consult with a shutter installer before the tile or stone installation is completed so the contractor will know how best to finish the stone around the window.
We are happy to work with your contractor/window installer to ensure that your new window treatments will be able to be installed correctly and professionally.
https://jmwshutters.com/wp-content/uploads/2013/06/new-windows.png
183
275
nikalabs
https://jmwshutters.com/wp-content/uploads/2015/02/logo1.jpg
nikalabs
2012-12-25 01:04:53
2012-12-25 01:04:53
Purchasing new windows….things to know